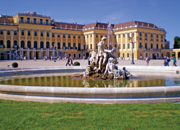 February 16 , 2016 – Once at the very edge of Western Europe and the frontier defender of Christendom,the magnificent imperial city of Vienna is now the beating heart of a new Europe. Formerly the crown jewel of a vast Habsburg empire that ruled over much of Central Europe for over six centuries, Vienna offers visitors a cultural smorgasbord of opulent palaces, world class museums and atmospheric coffeehouses.
Vienna's imperial grandeur is perhaps best on display at Schönbrunn Palace, the former summer residence of the Habsburgs. Maria Theresa, the only female ruler of the Habsburgs, had 16 children and strategically arranged marriages, including that of her most famous daughter, Marie Antoinette, to expand the Austrian empire. An intimate after-hours tour of the lavish Baroque palace gives a fascinating insight into the royal court under Maria Theresa. "An evening tour of Schönbrunn is magical," says Julian Mattocks, a Tour Manager at Image Tours Inc., who arranges for a private guided tour of the palace. "It's incredible to see where a six-year-old Mozart played the clavichord or where President Kennedy met Krushchev. Every room has a story to tell, and you have them all to yourself!" For classical music lovers, Vienna is a mecca. As well as being the city of Waltz king Johann Strauss Jr, it was also home to Mozart, Beethoven, Schubert, Brahms and Haydn and offers more classical concerts each night than any other city in the world. Art aficionados are spoilt for choice with a wealth of top museums, including the Fine Arts Museum, Albertina and Upper Belvedere, where visitors can view 'The Kiss' by iconic Art Nouveau artist, Gustav Klimt.
When talking about Vienna, one must mention the sublime 150-year-old Ringstrasse, often called the most beautiful boulevard in the world. Built to replace the old city walls under the order of Emperor Franz Josef, the Ringstrasse tantalises newcomers to the
city with its array of different architectural styles and glorious sights. Another must in Vienna is a trip to one of the capital's legendary coffeehouses, where some of the world's most notorious historical figures used to while away the hours. "It's a lesser-known fact that in 1913, Hitler, Stalin, Trotzky, Tito and Freud were all frequenting coffeehouses in Vienna," added Mattocks. "The same rule applies today – a single cup gives you the right to sit there all day if you want."
Since the fall of the Iron Curtain and the subsequent eastward expansion of the European Union a decade ago, the vibrant Austrian capital serves as a gateway to the former east for travelers eager to explore Central Europe. An escorted tour is a stress-free way to explore Vienna in combination with Central Europe's other fascinating and historic cities, such as Budapest, Prague, Bratislava and Krakow.