Included Features
Accommodations
Superior Tourist Class (3-star) and First Class (4-star) hotels are carefully selected for comfort, cleanliness and character. All rooms have a private bathroom with sink, toilet, and shower or bathtub. Free Wi-Fi is available at the hotels, with only a rare exception. A more detailed description can be found under each tour on the website at www.ImageTours.com. Our tours feature a balance of modern city hotels and family-run village hotels with European atmosphere accompanied by genuine hospitality.
Dinners
The included dinners follow a fixed menu. We work closely with the hotels/restaurants to provide a variety of dishes throughout the tour. The number of included dinners is noted on the introductory page of each tour.
Breakfast Daily
Breakfasts are commonly served buffet style at your hotel, with a selection of rolls, butter, jam, cheeses, cold cuts, coffee, tea, milk and juice. Breakfast buffets usually also include one or more other items such as cereal, pastries, fruit, yogurt, eggs, and/or local breakfast foods.
Tour Manager
An experienced representative will accompany the tour and handle all the arrangements for the full European duration. Generally, the Tour Manager who greets you upon arrival in Europe will be the same Tour Manager who will accompany you throughout your entire tour. All of our Tour Managers pride themselves on many years of experience, having traveled extensively in the regions covered on our tours. All reside in Europe and are multi-lingual with a fluency in English. Each is trained for the particular tours he or she will escort and is recertified for our tours annually. Our Tour Managers get to know you, dig deep to find answers to your questions, and add their personal touch to turn your tour into the "vacation of a lifetime."
Land Transportation
A deluxe, air-conditioned motor coach will provide transportation throughout Europe in accordance with the itinerary. Image Tours requires that the motor coaches used for our tours must be state-of-the-art models of no older than six years; one of the toughest standards in the European tour business. Although our motor coaches are government rated for standard-class seating of 56 passengers, we provide comfort-class seating for a maximum of 46 passengers on the majority of our tours, providing extra leg room and greater comfort. Daily seat rotation allows you to view Europe's spectacular scenery from all angles. Our motor coach drivers are selected by meeting our high standards for experience, courtesy and professionalism. They not only possess outstanding driving skills with safety as their number one priority, but also take pride in keeping the motor coach comfortable and clean throughout your tour.
Airport Transfers
One scheduled group airport transfer is hosted by the tour manager on Day 2 and again on the last day of the tour. The transfer time is based on the scheduled flight times of passengers who have purchased the complete Tour & Air Inclusive package from Image Tours. For details, see 'Are Airport Transfers Included?'.
Personal Assistive Listening System (P.A.L.S.)
The Tour Manager will offer an option for a Personal Assistive Listening System to facilitate convenient and clear reception of commentary during guided sightseeing. Although Image Tours will continue to provide separate P.A.L.S. devices as long as they are available and working successfully, the technology is changing. Eventually the only option for assistive listening may be through an application accessible on your smart phone. It is recommended that each traveler bring their own smart phone and set of earbuds for this purpose as well as for other essential assistance such as maps, photos, alarm, audio guides where available, and convenient communication with the Tour Manager as well as other services.
Tips for Included Services
The tour price includes tips for all aspects of the tour that are pre-arranged by Image Tours, such as hotels, restaurants and other services. Tips for the tour manager and motor coach driver are not included. For tipping guidelines, refer to "Are Tips for the Tour Manager & Driver Included?".
Confirmation & Travel Tips
Our FAQ page answers the most frequently asked questions about the tour experience. After receiving your completed Reservation Application and deposit, you will be sent a Confirmation statement from Image Tours. Approximately 4 months prior to departure, Image Tours provides and our highly informative TOUROCLOPEDIA® trip preparation tips to help you get ready for your tour of Europe.
Trip Documents
At least one week prior to the tour departure date, you will receive a Trip Documents Packet. This contains preparation reminders, departure day travel tips, arrival instructions, flight information, overnight schedule (with the names, addresses and telephone numbers of hotels), foreign currency information, a name tag and luggage tags.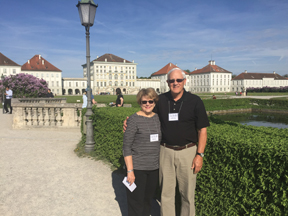 Becky & John Riles
HEART OF EUROPE® Circle Tour - Apr-2018
Verified Traveler
The experience of touring with Image Tours gave us a wonderful opportunity to learn so much more than we could have accomplished on our own.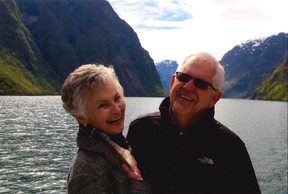 Catherine & Ken Holmstrom
Scandinavia & Baltic Highlights Tour - May-2019
Verified Traveler
The coach driver was extremely skilled at driving and knowledgeable of roads in every town.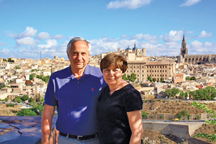 Don & Nancy Van Heel
Spain & Portugal Tour - Apr-2017
Verified Traveler
We have taken five tours with IMAGE . . . Beautiful scenery, very interesting history, excellent local guides.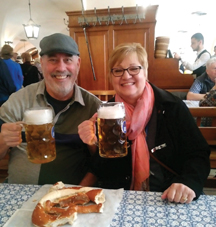 Dennis & Elizabeth Carroll
HEART OF EUROPE® Circle Tour - Apr-2019
Verified Traveler
The food was outstanding! Much better than ever expected! Great variety from the area and it was delicious!
Elaine Norling
TREASURES OF ITALY TOUR - SEP 2018 - Feb-2019
Verified Traveler
I've recommended Image Tours to my friends and family. It was a well planned, organized and all around fabulous trip.
Evelyn Gallagher
HEART OF EUROPE GRAND - SEP 2019 - Feb-2020
Verified Traveler
Everything on the tour was well-planned with the traveler in mind regarding length of days/hotel stays and tours, accommodations, tour manager (very well-versed in the each country's history, culture,...
Thomas & Millie
Repeat Traveler - Sep-2019
Verified Traveler
Been traveling through Europe with Image Tours now for 12 years....never an issue...absolutely a Five Star Company.. will be continuing my travels with them.