Though kids might not realize it, parents do: Childhood is an exceptional time to make memories that will last for years to come.  The years spent together as a family are a relatively brief period in the course of a lifetime, so it's important to make the most of them.
One of the best ways to create unforgettable memories for your whole family is to travel together, and few destinations can compete with Europe in terms of sights to see and experiences to share.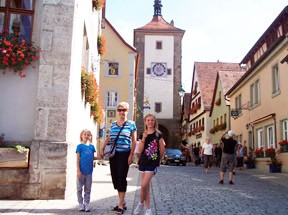 Not all tours are set up to be family-friendly - it's important that you seek out options that will allow children, parents and grandparents to travel together on a schedule that suits everyone. Image Tours' family-oriented options, which include summer excursions as well as tours during the rest of the year, ensure that children are entertained appropriately and that travelers of all ages will get the best travel value for their money.
A carefully coordinated tour of Europe allows your family to see a variety of countries or focus more closely on a single region. For instance, Image Tours offers a Heart of Europe tour that encompasses Germany, Austria, Italy, Switzerland, France, Belgium and Holland in a 15-day circuit. And the company also operates tours like Treasures of Italy, which is a 12-day trip that shows you all the highlights of the country.
Keep in mind that a family trip to Europe should include a balance of things that everyone wants to see and do. Visiting castles like Germany's Schloss Neuschwanstein is a treat for all involved - kids will be wowed by the fairytale look of the castle, while the history is sure to engage adults. For teens who are studying historic events like World War II in school, visiting the major landmarks of the war is an exceptional way to bring history to life, but the experience will be equally remarkable for their parents and grandparents.
It's recommended that kids be at least 8 years old for their first family trip to Europe. You can be assured that they'll enjoy the experience and remember traveling as a family for a lifetime.