For hundreds of years since the Alhambra's inception in the 9th century, the sprawling, fortified complex in Granada, Spain has fascinated both the privileged few who lived within its walls and the travelers from around the globe who now visit this spectacular sight.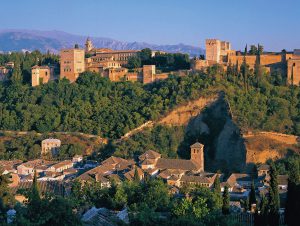 Alhambra means "Red Castle" in Arabic, but it is more than just a castle. Located on the River Darro, the Alhambra is composed of five main sections: The Alcazaba served as the military stronghold; the highest ranking officials of the Court lived in the Alhambra Alta, the upper village; the Nasrid Palaces housed royalty throughout the Moorish period; the Charles V Palace was built for the Christian Emperors; and the gardens of El Generalife provided royalty a peaceful place to relax.
The various structures represent the finest of Muslim architecture during Spain's medieval period. The Alcazaba fortress is the oldest and was built with several towers, such as the Torre de la Vela (Watch Tower). The Alhambra is known for its intricate water system of canals and fountains, some of which can still be seen today. The Nasrid Palaces contained multiple halls, chambers, and luxurious baths for the kings.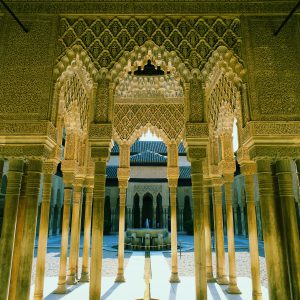 The construction of the Charles V Palace marked the end of the Alhambra's Moorish period; however, the Christian Emperors did not alter any of the characteristics of the other existing parts, allowing present-day visitors to see the preserved and restored architecture in its original form. Walking to El Generalife lends a beautiful view of the Sierra Nevada and crowns an awe-filled excursion for any sightseer.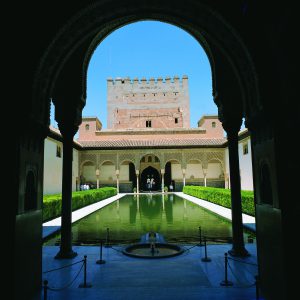 Miguel Angel Gomez Braojos, a guide at the Alhambra who has a long line of ancestry in the area, observes "Visitors are amazed by the good condition of the buildings and other features. With the Alhambra dating from the 9th century, travelers expect to be visiting ruins, but are delighted to find several full-standing buildings, towers and walls telling the history of this enduring site." While guiding a group traveling with Image Tours, Miguel Angel endearingly tells them "The Alhambra is something unique in the world, a medieval Arabian palace built by Muslims and preserved by Christians for 500 years."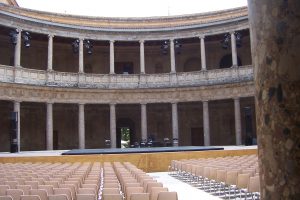 The Alhambra is a stop on our 15-day SPAIN & PORTUGAL Tour, which also features Lisbon, Seville, Costa del Sol, Cordoba, Baeza, and Madrid. Our 2018 departures include May 10, September 6, and October 11. To see a detailed itinerary of this tour, click HERE.
To request a free 84-page Europe Tour Brochure that includes the Spain & Portugal Tour, contact your Travel Agent or click HERE and we will have one of our partner Travel Agents send you one right away.